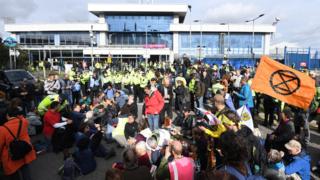 A former Paralympian accused of gluing himself to the top of a plane has denied causing a public nuisance.
James Brown is alleged to have climbed on to the British Airways plane at London City Airport on Thursday, during the Extinction Rebellion protests.
The 55-year-old, of Magdalen Road, Exeter, denied the charge at Westminster Magistrates' Court earlier.
District judge John Zani granted conditional bail prohibiting him from going within a mile of any UK airport.
The case was heard in front of a full public gallery, including Extinction Rebellion protesters, and there was applause at the end of the hearing.
Brown, who is visually impaired, is due to appear for trial at Southwark Crown Court on 8 November.
His solicitor, Raj Chada, requested the cyclist's cane be returned to him after it was confiscated by officers, which was granted.
Brown competed for Britain, Ireland and Northern Ireland in a career which saw him participate at five Paralympic Games and earn two gold medals and a bronze.
'Funeral procession'
The case came after a week of demonstrations, which police say has seen nearly 1,300 arrests across the capital.
On the sixth day of protests, Extinction Rebellion supporters marched in what they described as a "funeral procession" on Oxford Street.
The demonstration along the major shopping street aimed to highlight the impact of climate change on wildlife and saw some supporters carry coffins and models of skeletons of extinct or threatened animals.
A separate demonstration to highlight air pollution involved doctors, nurses and medical students and was described as a "health march for the planet".
Meanwhile, it has been revealed that Belgian Princess Esmeralda Dereth was arrested, after she joined a sit-in protest at Trafalgar Square on Thursday.
The 63-year-old told Belgian newspaper L'Echo: "The more people from all sections of society protest, the greater the impact will be."